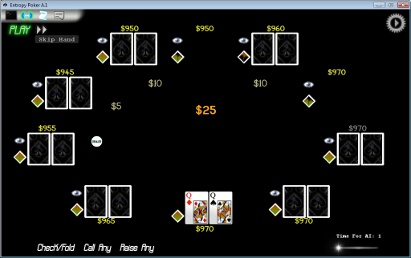 Improve your Poker with Entropy A.I., the state-of-the-art Limit Hold'em Poker Artificial Intelligence.
Entropy Poker A.I. gives you the chance to practice your game with a fearless expert poker player, making it an essential
training tool for players of all skill levels.
Not just another poker bot:
'Entropy' does not use any fixed rules or formulae to play. Instead it employs a complex system of artificial neural networks (software abstractions inspired by the neurons in our brains) which are activated thousands of times a second while Entropy is 'thinking'The core algorithms and logic behind Entropy cannot be revealed at this time.. Entropy 'learned' Entropy's artificial neural networks have the ability to learn and adapt, not unlike their biological counterparts. how to play poker through 'experience' Entropy has been trained on thousands of hands of limit holdem in order to model people's typical behaviours. and it can 'adapt' Entropy will continually monitor your play in order to better predict your future actions. naturally to exploit your weaknesses.
Introducing 'The Probability Diamond'
The interface's unique 'Probability Diamond'Probability Diamonds are 13x13 diamond shaped tables in which the cells correspond to the hole hand combinations the player may be holding. Cells which are brightly coloured represent cards which are more likely to be held by the player. Reddish cells represent the stronger hole hands, greenish cells represent the weaker hole hands. images show the likely hands your opponents are holding, allowing you to think graphically about the strength they are projecting at the table by their actions. Entropy will bluff when you seem weak and fold when you seem strong and the probability diamonds can visually show you why. They also allow you to discern in an instant the likely strength of an opponent's hand as well as hands you should be wary of, giving you insights into the game of poker which will undoubtedly pay dividends at the real tables.
---
Featuring state-of-the-art artificial intelligence
'Probability Diamonds'Probability Diamonds are 13x13 diamond shaped tables in which the cells correspond to the hole hand combinations the player may be holding. Cells which are brightly coloured represent cards which are more likely to be held by the player. Reddish cells represent the stronger hole hands, greenish cells represent the weaker hole hands. help take the uncertainty out of Poker
Adaptive intelligence predicts and reacts to your changing styles of play
Play against any number of opponents (one to nine)
'Autoplay Mode'Let Entropy take over from your position at any point. allows you to sit back and watch Entropy play your hands
Entropy is completely scalable and future proof in that it can always be made to think longer / deeper about its moves allowing it to take full advantage of tomorrow's faster computers
Reveal Entropy's cards at any point and learn through repetition
Receive real-time hints from Entropy during play - like having a pro over your shoulder, telling you what to do
©2010 ERGOD